When buying yarn, I usually look at how soft the yarn is, how smooth it is to work with, and also how much it costs per meter per skein. During my first months of crafting, I couldn't seem to find yarn that I was satisfied with in the shops in my city. Almost all the shops I went to had yarn that was too thin, too rough or too itchy when worn.
Most of the projects I make are hats, scarves and amigurumi. I like buying yarn that is smooth to work with but affordable. Good thing a friend showed me this wonderful yarn shop in the next city (the same shop where I got all the hooks and needles I use now). They sell a nice variety of yarns there, but most of them are too expensive for me, when you consider the price per meter. Still, that's where I always get my stash.
After trying out a few brands and types, I settled on the Excel yarns as my staple. The colors are nice, the yarn is smooth, and it feels like it's made of cotton, when in fact it is 100% acrylic! The material it's made of ensures that it's very affordable too! You can say that it's worth the effort of going all the way to the next city to get 'em. Some novelty yarns, Bernat yarns, and Lion Brand Cotton-Ease appear in my stash too, but Excel for me is always the
pinaka-sulit
or, in English, best for its value.
I do wish I could find yarn I like in my city though. Which is why I still keep an eye out for some craft shops and other local brands of yarn. I've been reading a few entries by fellow Filipinos about Monaco yarns. They say it's okay to work with, so as soon as I saw a store selling Monaco yarns, I bought a few skeins in one of my favorite colors.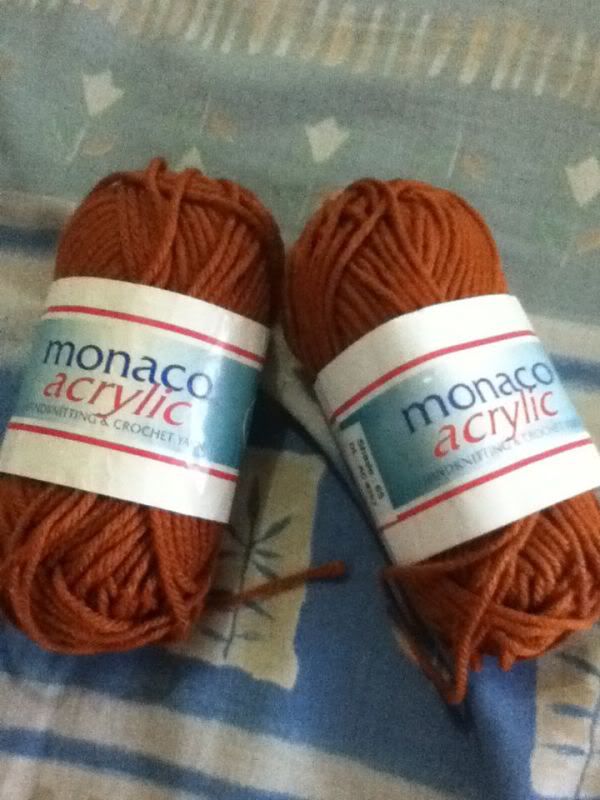 Rusty-orange, one of my favorite colors
Trying this out now by making a hat. I really hope it doesn't turn out to be itchy/scratchy, 'cause I did notice that it's not as springy or soft as the Excel yarns. If it does satisfy at the end, I just might stick to this brand! It's only 18php for one ball!