I tagged
Catyanna
for the Liebster Award last week, and though the rules say we shouldn't do any tagbacks, she tagged me back (I tagged Bheng back too! lol. So she's not the only one).
I liked the questions she posted for those she tagged, so I'm gonna answer them here. Also, this kind of question-answer thingy reminds me so much of my old blogs and the old Multiply days. Nostalgia!
Here goes:
1. Any amazing discoveries lately?
- I just discovered
shadow knitting
a couple of weeks ago. Check it out! :)
2. Day of the week you generally look forward to?
- Fridays!
3. Love having a routine or hate it?
- I love having a routine, but I don't go crazy when I deviate from it every now and then.
4. What did you want to be when you were younger?
- I wanted to be a marine biologist, a teacher, and according to my kindergarten yearbook, a dentist! (this last one I totally do not remember saying!).
5. One thing that's piqued your interest lately?
- Listening to audiobooks :)
6. Your best subject back in school?
- English. And also Filipino, at one point. In fact, I got selected as one of our section's representatives for a Filipino Quiz Bee back in first year highschool. LOL.
7. Your someday-I-shall project, craft or otherwise?
- One day, I hope to knit a very airy, lacy, epic, white shawl. :) Much like this one: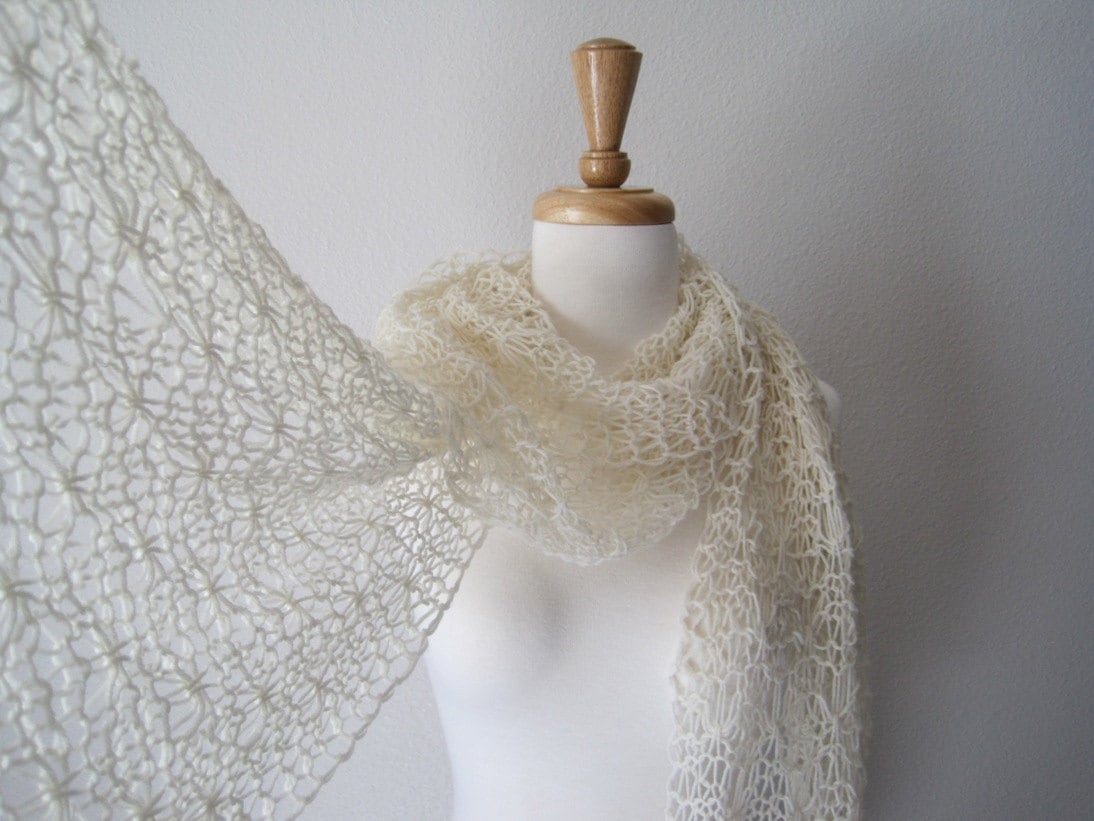 But with a lighter-weight, fuzzy yarn. Like mohair, maybe.
8. A hobby you thought you'd really get into but didn't?
- When I was a kid, I used to be into a lot of crafts like origami, bracelet braiding, quilling, clay-sculpting, card-making, etc. I thought I'd be doing that all my life, but now I just mostly knit.
I thought I'd get into water-color painting, but never took it seriously. I feel like I really don't have the knack for it. My mom bequeathed to me all her old water-color materials, as well as her old books, so there may be a possibility for it in the future?
9. If you were to be given a block of time to make something, would you choose to make something intricate to wear on a special occasion or something that you're likely to use on a regular basis?
- I'd probably choose to make something intricate to wear on a special occasion. And I'd probably use that thing on a regular basis too, I most likely wouldn't mind that.
10. If you could get a specific yarn/thread as a prize, what would you like it to be?
- I'd like to receive a few skeins of sock-weight wool. :)
11. If you could recommend a book, a TV show, or a film to me, what would it be?
- I know you haven't gone past the first book, but I recommend you continue the A Song of Ice and Fire series :)
C'est tout! I haven't much to say today, except that I am currently trying to decide on what kind of a cardigan I would like to knit for myself. I have new yarn! 3 new skeins of milk cotton, one of which was given to me by Catyanna (thanks again!).
I definitely want to design my own cardigan, since I have a limited amount of yarn. But I'm open to suggestions for inspiration or construction ideas. So far, I know I want a seamless project. :)